SKAT Transport, as a member of SKAT Group, offers transport and logistics services within Europe.
We are present in Poland, Great Britain, Ireland, Germany, France, Benelux, Spain, Scandinavia, Italy, Austria, Hungary, Czech Republic and Slovakia.
Specialized in international and national road transportation, SKAT Transport proposes also intermodal solutions and ferry line services.
What characterize us?
For sure our modern fleet of orange vehicles with our motto "Always on Time". Satisfied customers describe us as being exceptionally different.
Our main office is located in Gdansk, but we have also other departments in Katowice, Lodz, Swiecie, London and Rzepin.
We offer following transport services:
FTL loads
ADR transports
Loads from 1cbm till 102 cbm
Oversized goods transportation
We guarantee to our partners:
Deliveries on time, according to our motto "Always on time"
Highest quality of services in accordance with ISO 9001:2015 and ISO 14001:2015 certificates, confirmed by Lloyd's
Modern fleet of 150 DAF and Scania vehicles (no older then 1,5 year)
Euro 6 trucks
Experienced drivers
GPS and Transics monitoring of transport and quick access to the transport documentation (CMR's)
Well-equipped fixed-subcontractors team
Insurance up to 400 000 EUR per loading
Professional, dedicated and highly-skilled operational team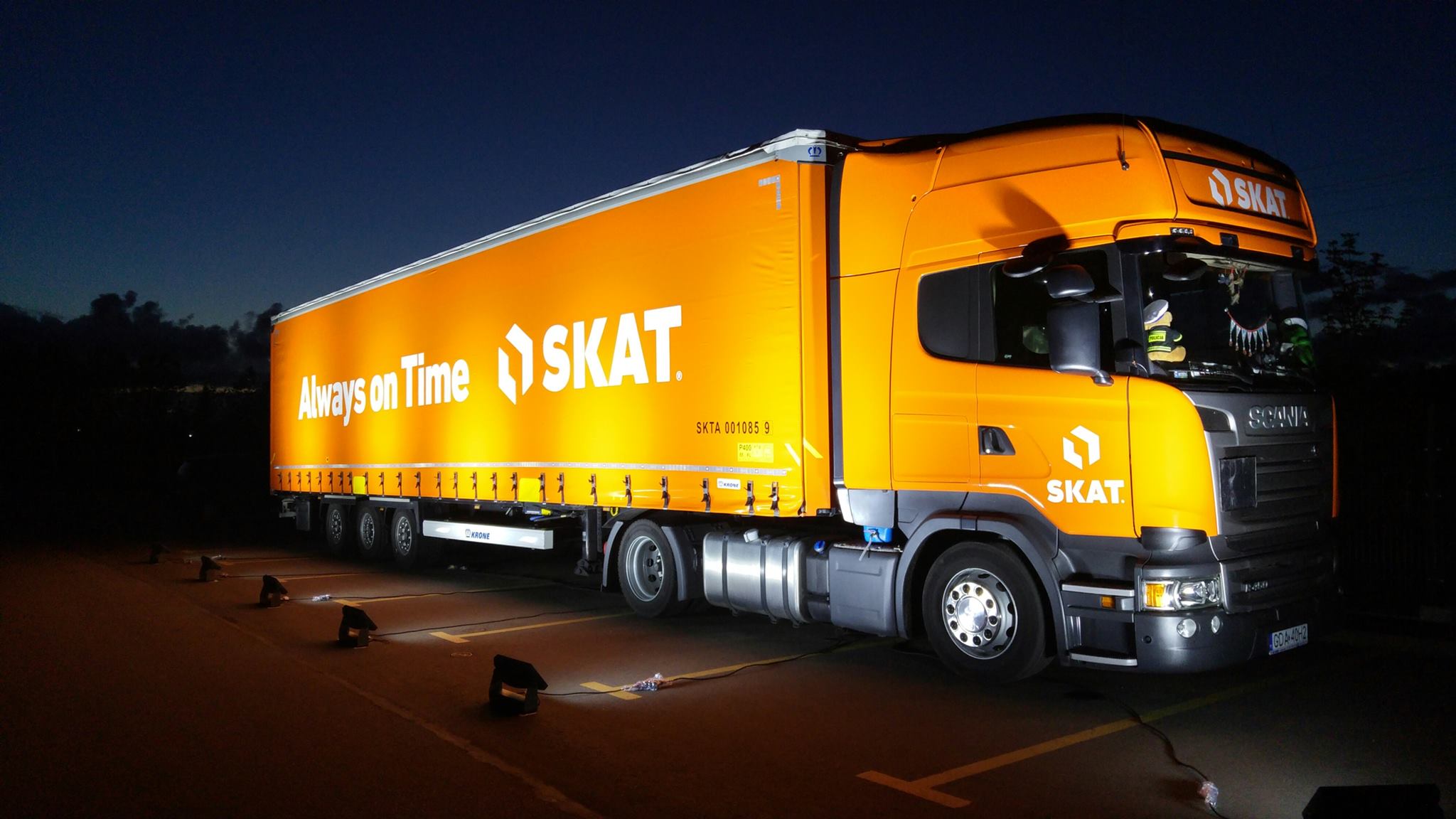 Our equipment:
200 MEGA chassis (102 cbm : 13,6 m length, 2,5m width, 3,0m height), up to 26 tons of cargo
ADR equipped fleet
Huckepack intermodal chassis
300 additional chassis from our fixed-subcontractors team
We also provide ferry line services via www.PromySkat.pl portal. PROMYSKAT offers connections between 35 countries and over 200 European ports. SKAT ferry strong points are: high-performance team with vast amount of knowledge and competitive prices.
Do not hesitate to contact us!  Our team remain at your disposal.